Wow that was a long title haha, I wasn't sure how to call this post, but I think that sums it up.
Weather has been crappy and it has been raining on and off the past few days, so there's no sun to recharge energies.
However, I did receive an amazing package from Australia yesterday, from the lovely Alasse, thank you so much! It totally brighten my days~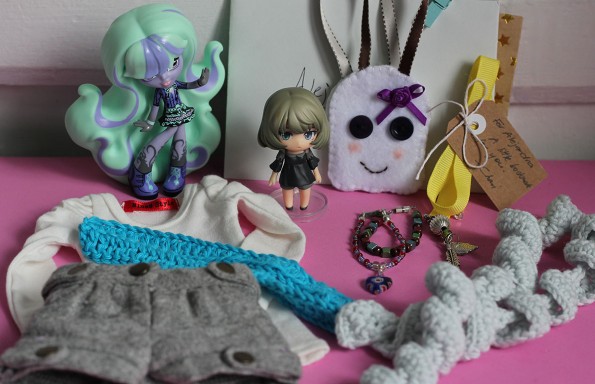 As you can see I received many handmade goodies that I totally love! And a monster high vinyl figure that I'm in love with, makes me want to buy a wig like that for my girls haha!
Her crochet is so pretty, I want to learn to do that twisted one someday, looks very girly! I wanted to post photos of Ailene wearing the blue scarf, I even set the entire outfit to go with it in my mind, but there's no light for doll photos, so I will take them as soon as I can. The little bag reminds me a bit of the MH logo, but cuter, can't help but smile looking at that happy face.
She also sent me a msd outfit for my Junia, her first set of clothing, thank you dear! I love everything so much.
And to keep you all updated on the dolly front, I've purchased another doll. If you follow me on instagram you might know this already, but I ordered a Sassy Rosy in pink lavender skin from Peak's Woods. She is one of the four new sculpts in their Fairies of fairytales (FoF) line. It was love at first sight.
This is the first time I am waiting for so many dolls at once (Junia, Ashes, Sasy Rossy…), but it is fun! I hope it keeps me motivated through winter, or at least it keeps my spirit up!
I also wanted to upload my dolls profiles this weekend but I found a fatal flaw in the theme I was going to use, so I am once again in the search. And I even had all the graphics done already haha, oh well XD.
Hope you are having a great weekend!