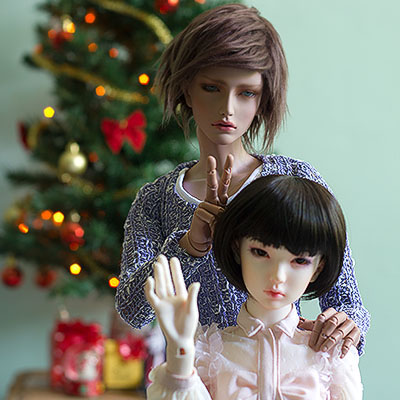 Is the time of the year to see if we were good and stick to our plans accomplishing what we wanted. I didn't have that many goals and I wish I had done more but overall I'm really happy with what I did.
Since I didn't publish my goals list anywhere last year, you will just have to trust me with this one.
Here are the things I wanted for this year:
Get better at face ups, and if possible, paint all my dolls
This one was my priority this year, and I'm so happy to say that all my dolls have face ups at the moment, and most of them are by me (Lucas has SOOM face up and Lady Alice will have the PW default face up as well). I have a lot to learn, but I practiced a lot this year and got better at it.
No buying more dolls. One YoSD sized is allowed
Well I kinda did this one. I got a FoF Lady Alice, which is YoSD sized, but I also got a second doll, also from Peak's Woods. But I'll check this one as victory since none have shipped anyways (lol?).
 Create a blog to share my experience in the hobby with other people
I thought this one wasn't going to happen. You see, I'm GREAT giving excuses to not do something, like "I don't have enough good photos to open a blog" or "my dolls are all blank, what am I going to write?". But in the end I decided to go for it, even if I didn't have much to say at that moment.
You can't imagine how happy I am I decided to make the blog, it was the biggest motivation to do the face ups on my dolls and it's the place where I got courage to decide and sell dolls that I didn't feel were working. It's also the place where I've meet other people in this hobby, amazing people. And of course, a place where I get to share more with those I already knew before.
Get clothes for my dolls and jointed hands for my boys
I got clothes for all my dolls this year and I was also lucky to join SOOM event to get some jointed hands. I already assemble and put Lucas' hands on him and it's really fun to play with them. They still need wiring and the color doesn't match 100%, but I love them.
Improve my photography
I'm not sure if I improved or not but I can say I like more photos that I took this year, than any other year, though it's still not much, as you can tell by checking my Deviantart or Flickr. I'd love to have posted more photos. It's not that I didn't take any, is just that most of the time I didn't like them.
Make christmas photos to print as post cards and send to my friends
Yeah… this didn't happen. I didn't even take pictures of my dolls until today, though I put a christmas tree for them at the beginning of the month. But it's okay, I'll try to do this one next year.
And speaking of friends and christmas,
I wish you all the greatest christmas, full of love, joy and dolls.