Hello everyone!!! November is coming to an end and with that it's time to prepare for Christmas!! Who is excited?! I definitely am. In fact, I've been planning and preparing for some time now so hopefully I will have nice doll Christmas photos this year.
And today's tutorial is all about Christmas socks. I think they will add a nice touch to any Christmas diorama you are planning on doing. I was testing yesterday with my famous scraps of fabric and this is what I came out with: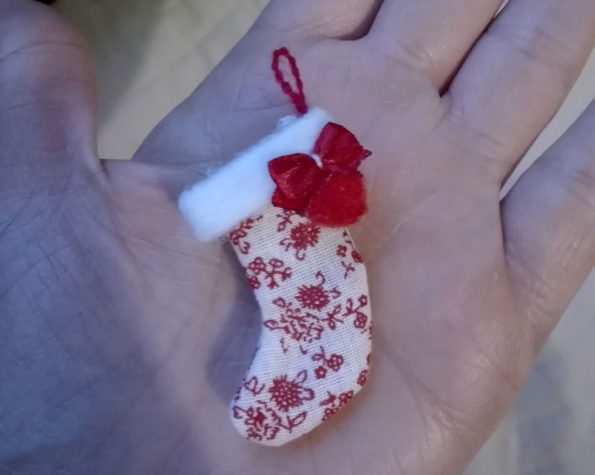 Cute, isn't it? I posted it on Instagram and someone asked me to do a tutorial, so here it is.
You will need: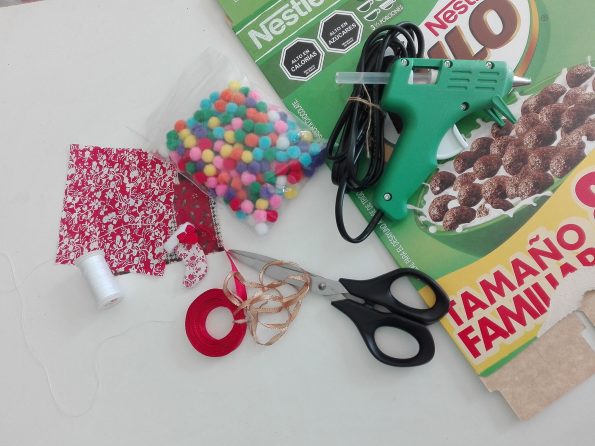 Scraps of fabric. Yeah, you guessed it, I'm using my 10×10 cm. ones.
Scissors
Needle and thread
Cardboard (I'm using cereal boxes)
Hot glue gun (be careful when using)
White felt fabric (not pictured)
Red, white or green thin yarn (also not pictured, sorry!)
Ribbon, pompoms, charms or anything you would use to decorate.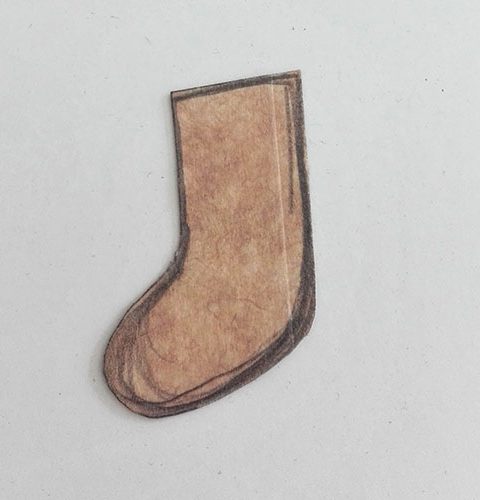 First, make a boot shape on the cardboard, whatever size you would like your socks to be. Once you are happy with the shape, cut it out. This will be our pattern so all the socks come out the same shape and size (unless you want to make them all different, which is also fine).
Fold a scrap of fabric in half, with the good side on the inside and copy the boot pattern on it. I'm making Christmas socks for Momoko and Pure Neemos, so my boots are quite small. In a piece of 10×10 cm. i could fit 2 boots.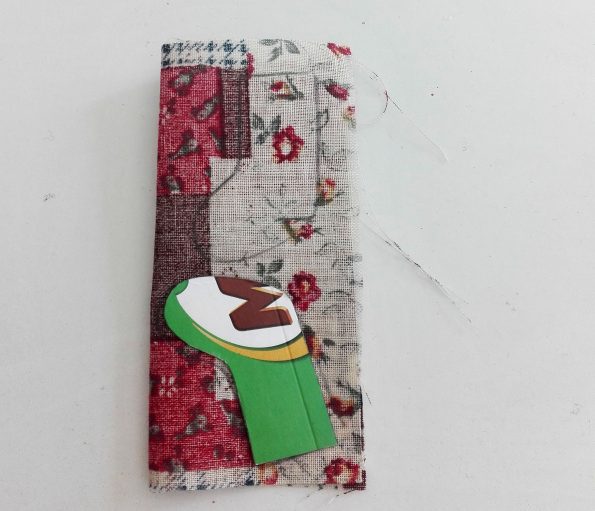 Don't forget to leave some space between boots, so we have a seam allowance. We need extra fabric on top as well.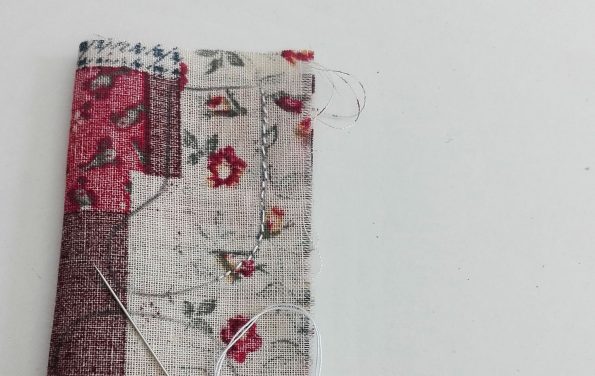 Sew around the drawing, leaving the top part untouched. I used a back stitch because that's what I'm most comfortable doing. I've never been too good sewing anyways.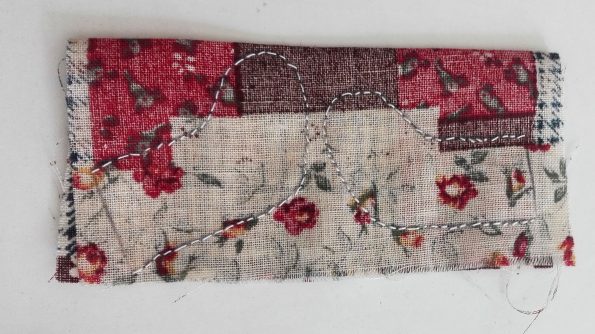 Here we have 2 boots done.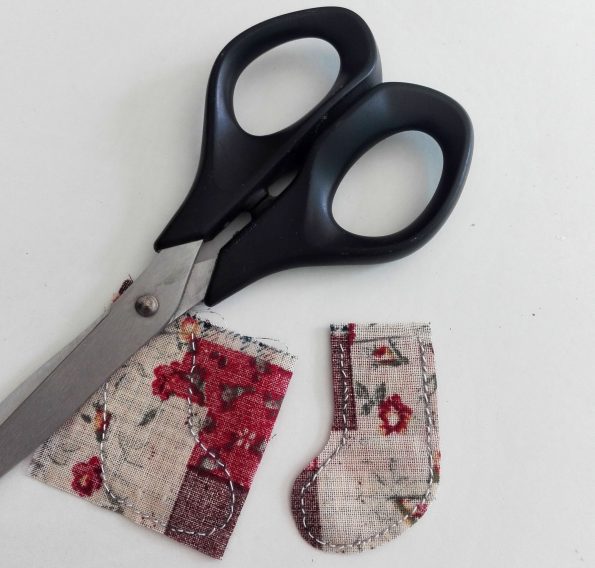 Cut them leaving extra fabric around, including at the top. We are going to use it now.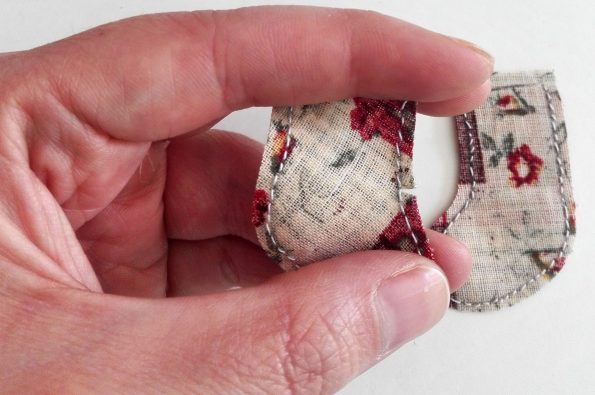 I made a few small cuts wherever the boot had a curve, just in case. I've seen tutorials where they do the cuts on curve sewn projects to release tension so I thought I'd give it a try. I don't know if it made a difference or not.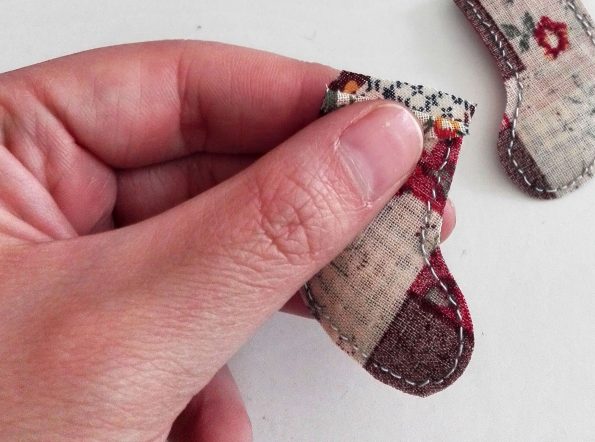 Fold the extra fabric on top and sew it in place with a few stitches. They don't have to look pretty since we will cover them anyways. Don't sew the boot close!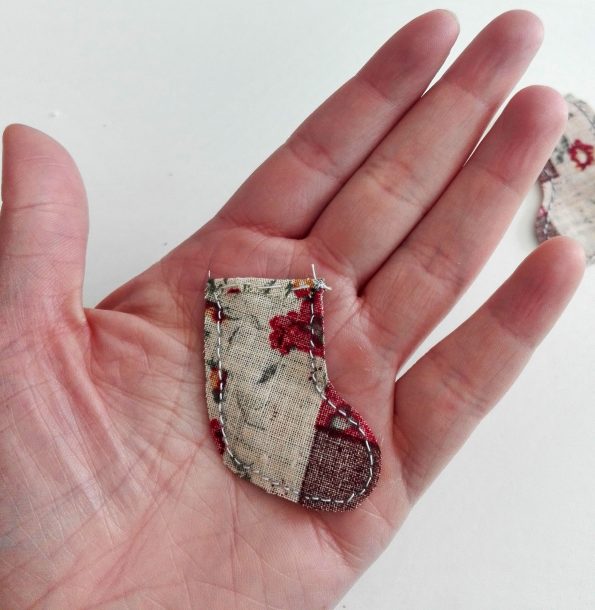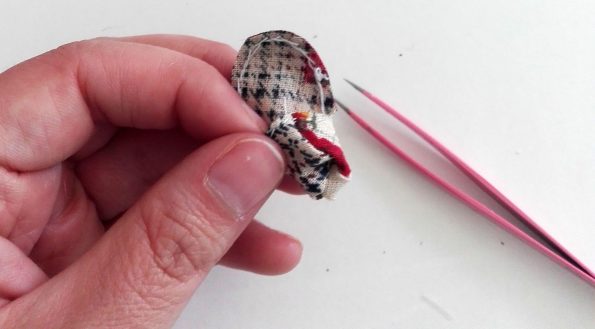 Turn it over. You might need tweezers if your boots are this small. I think this is the hardest part. Be gentle not to pull too hard. Patience is key.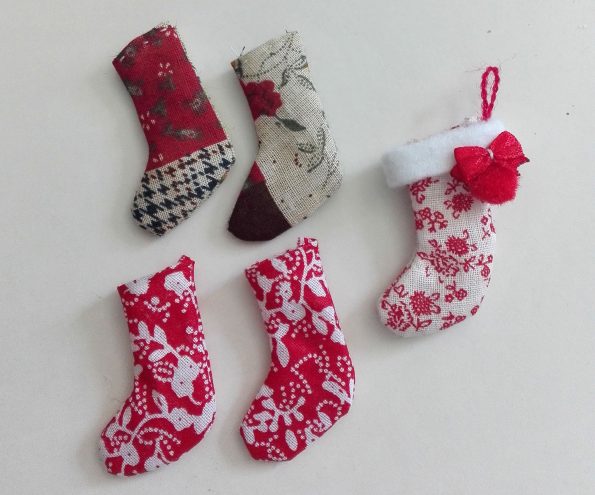 Here are all the boots turned to their good side.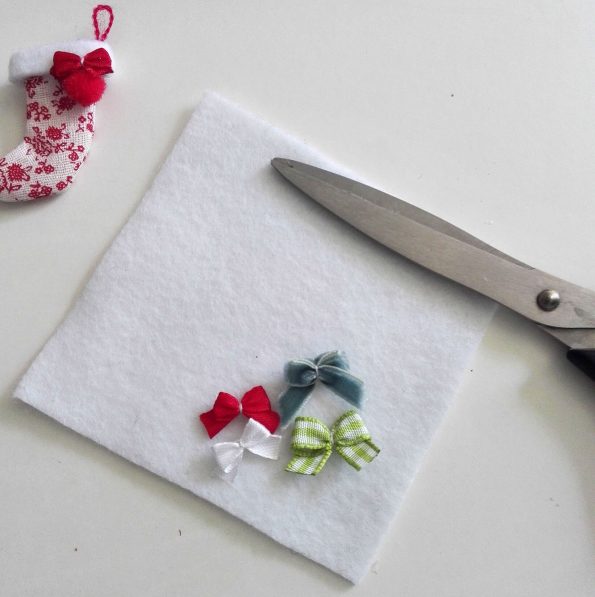 Now we will decorate them all Christmas-y! First we need white felt fabric. If you are going to add ribbons, this would be the time to make them and have them ready. I made one for each sock.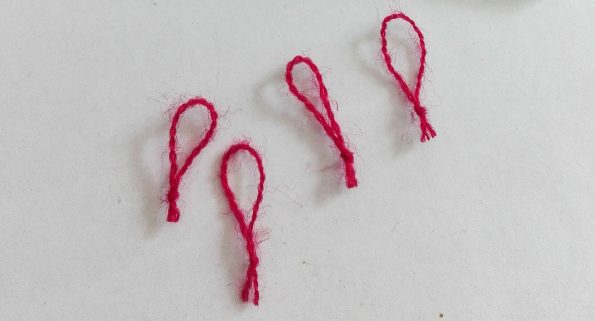 Cut and tie some tiny loops with thin yarn. Christmas colors work best in my opinion, but if you are making pink, blue or any other colored socks, choose what fits your style. Get your hot glue gun ready now.
Cut stripes of white felt and glue it folded, so it's thicker. This will give more dimension to our socks.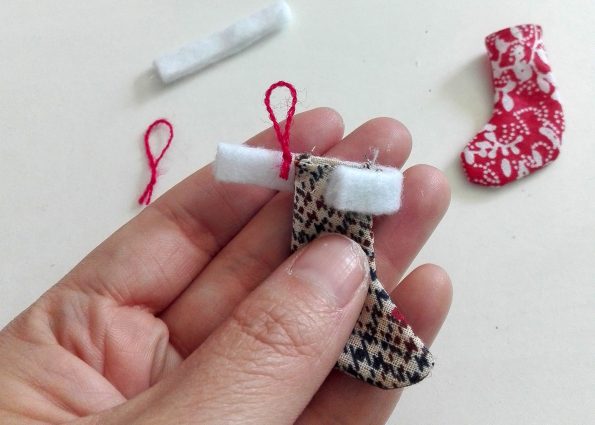 Glue the felt around the top part of the sock. Add the loop of yarn to the side while gluing it, so the knot gets hidden inside.

Once all your socks have the white felt glued, it's time to decorate. Plan before gluing!
I decided all my socks would have one pompom and one ribbon, to keep it somewhat consistent.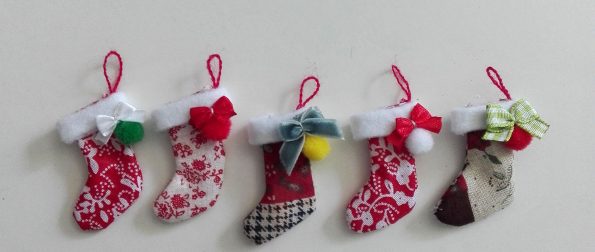 And here is the final look!
I also made a door with 3 hooks on it so I could hang them. No tutorial for the door because I just literally glued wood sticks together and painted them, and then sanded it all for the rustic look. I used whatever sticks I had on hand, didn't plan much.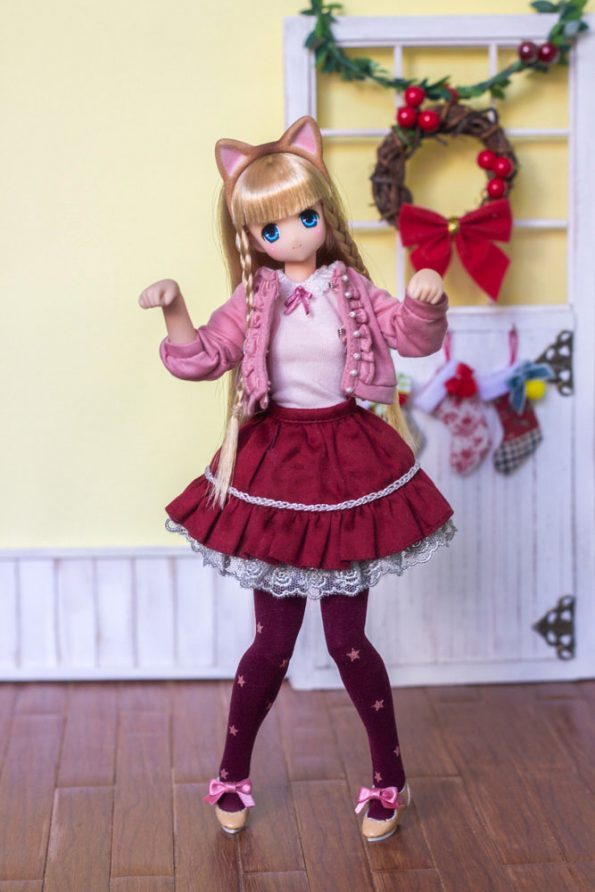 And that's pretty much it. Simple, doesn't take much time and it's super cute! Do you guys liked it? Hope you give it a try.