In 2 days will be 90 years since Mickey Mouse's first appearance in Steam Boat Willie (November 18th, 1928) and I was really looking forward to celebrate with him my way: the dolly way!
I still don't have enough space to set up a diorama, I would have loved to have my dolls throw a big party for the occasion, but even though I didn't managed to do that, I sorted it out.
I've been planing this shoot for at least a week. I had this clear idea of a flat lay photo of what would have been a Mickey's themed party. I remembered I have a tiny Mickey mouse shaped pink cake and a Minnie donut that I got as gift in a purchase long ago, and then my brain started to plan it all.
I needed party hats, of course!! So I made them myself. A party isn't a party without party hats!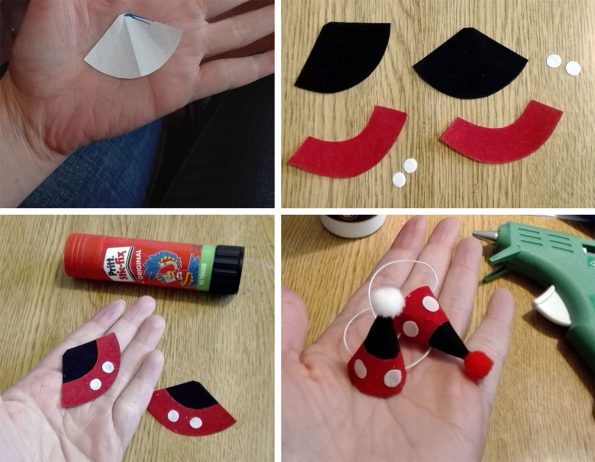 After that, all I needed was setting it all up. I needed any surface that could work as a table, since I wasn't planning on showing anything else but the table. I thought of scrapbook paper first, but I thought that printed paper would make a too busy background. So what about colored paper? That would work great, but I was hoping to get some texture going. So I thought of using one of my 2 handmade tiny tables since both had a bit of texture going but were simple enough.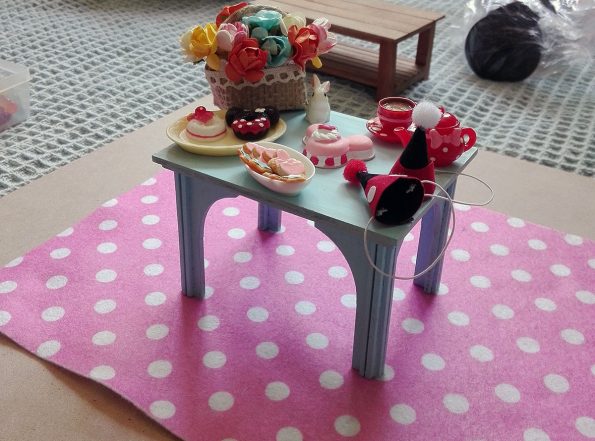 I started off very simple. Party hats, a red and polka dot teapot and some sweets. I put the flowers in the corner to make the scene look busy and colorful.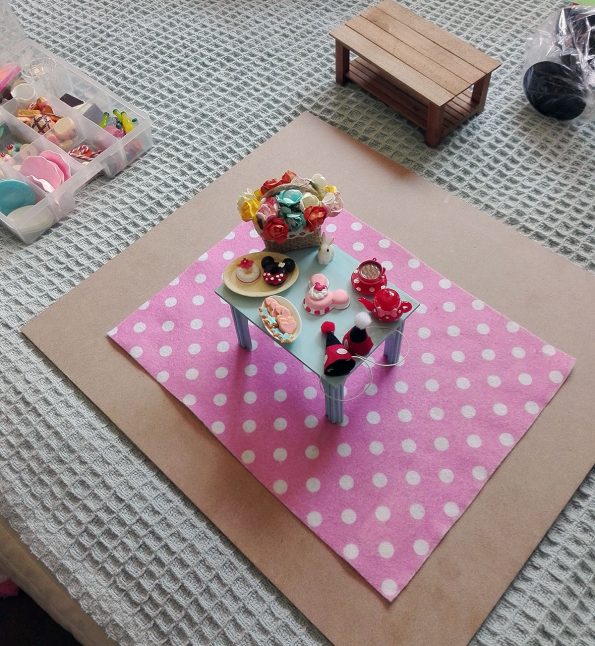 And if you are wondering: Yes, that's my bed, a piece of wood and the miniatures on top. I put the piece of felt in case I decided I wanted a piece of the "floor" to show in the final photo.
I took a few photos but it looked way too simple, so I resorted to table number 2.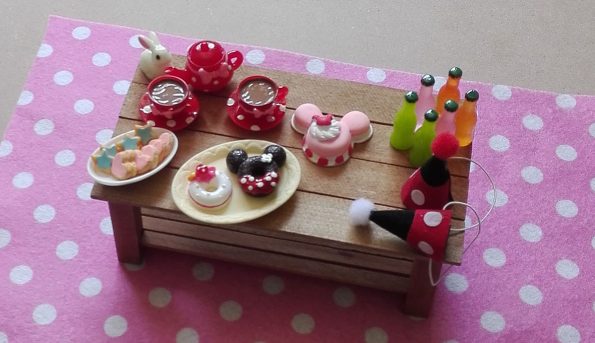 Ok, it doesn't look like much either, but the plan was to leave a few elements partially outside the frame, so it looked like there was more stuff going on. But it was still not festive enough.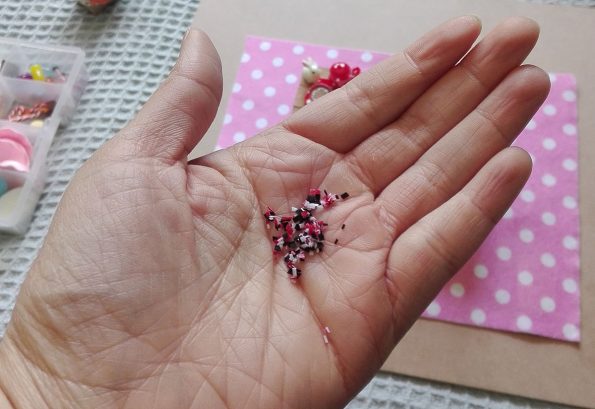 And what is more festive than confetti? So I made tiny confetti in Mickey's colors.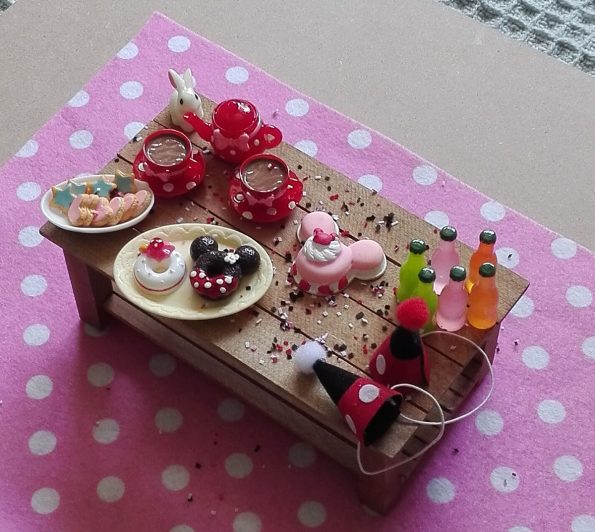 It's crazy how the confetti changed the whole thing!
Now, my camera is good, but the lens can't focus real close, so I had to take the photo from further than I needed, so everything would stay in focus. It's okay, cropping is no crime at all.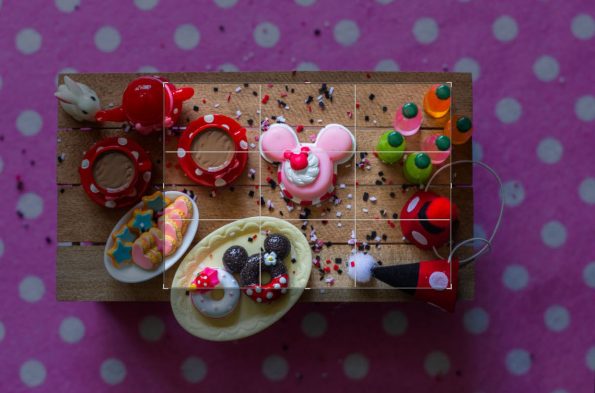 This was the second time I took the photo. In the first take the heart cookies didn't show up after cropping, but thankfully I still had everything set up in my bed so I moved them closer in the scene.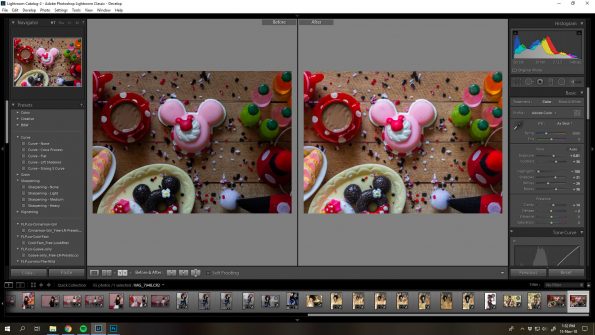 And of course, I had to do some editing, Loving the result so far!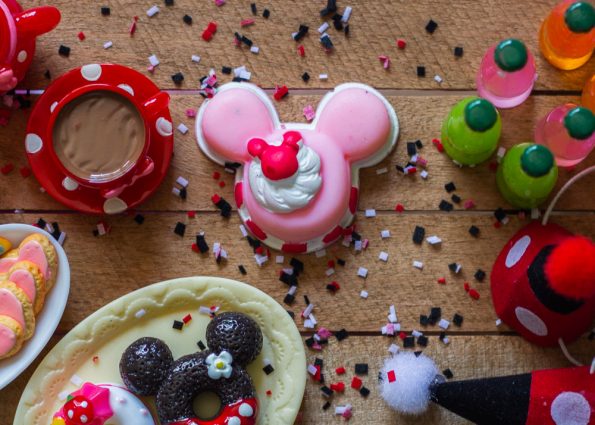 This is the end result after Lightroom. I liked it a lot, but I felt the Minnie donut was competing too much with the cake, so I decided to blur everything a bit, except the cake. It was such a shame to blur things out even a little, since I worked so hard to get it all in focus, but I think the end result is much better.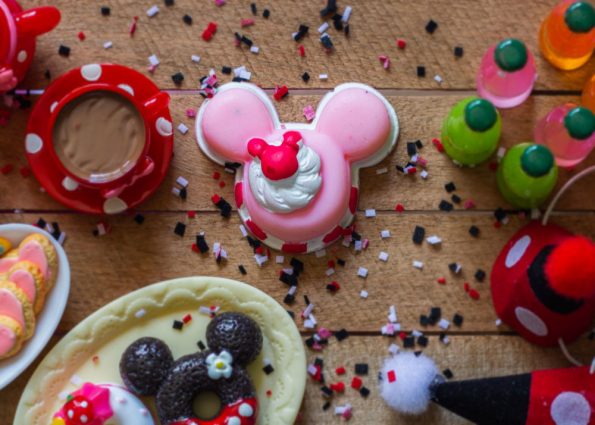 It's a very small change, but it made all the difference in my opinion. What do you guys think?
Happy Birthday Mickey!