Hello everyone!!! Can't believe I haven't posted anything at all this month! you soon will see what has been occupying my time lately, not much doll related things have happened, but I've been polishing my BJD profiles so I could finally bring them to you.
They are not perfect, and the writing is a little off, but I hope that people who likes reading doll profiles and stories can enjoy them. I don't expect anyone to read them, as I think my doll stories are very basic and seem to work better in my mind than in paper.
You can check the profiles page here, or access to it from the top menu. I will try to make a post every time I update something in the page so you don't have to go check it out more than you need.
You might notice May is not on the profiles page and that is because I still haven't found the perfect name for her and I don't want to force it. It might be that I truly dislike her face up, but can't redo it just yet because I ran out of airbrush cleaner. I owe you a photo of her too, so let's just use this cropped piece from my Christmas photos (that I've taken many times and I haven't liked a single shot yet):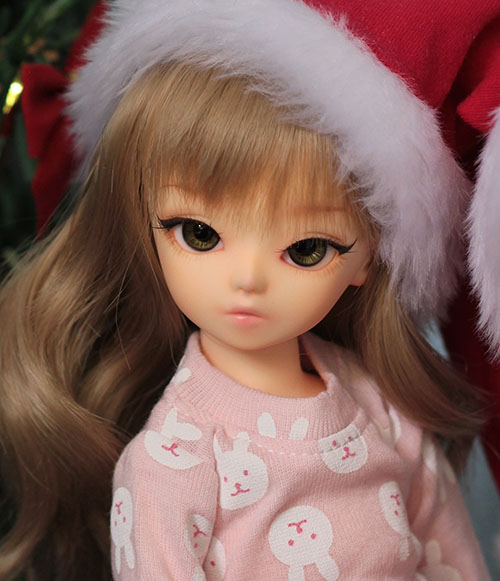 I won't give up though, I still hope to make a Christmas post with photos and all.
And what has taken all of my free time if not dolls? Final Fantasy! Sweet, gorgeous, perfect Final Fantasy. At first I got World of Final Fantasy while waiting for Final Fantasy XV to come out, and having no expectations of the game, I was truly amazed at how fun it was.
The game isn't related to any Final Fantasy, but it has many Final Fantasy elements to it. There's places from the games you can visit and you meet many characters and creatures from the games. The main premise is to capture as many mirages (creatures) as possible to be stronger and beat the bad guys. Some Final Fantasy characters even aid you in battle, kind of like how summons work in actual FF games.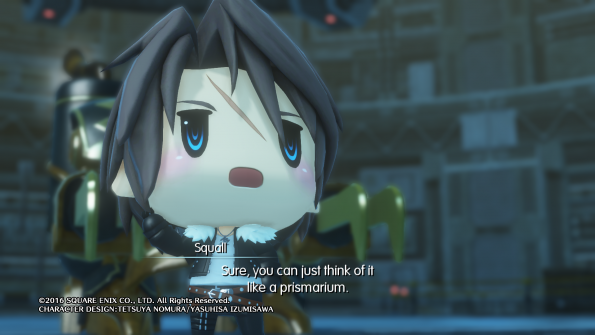 The game to me looked a lot like Pokemon at first, but even though the story isn't anything special, the battle system and the interaction between characters is really fun. If you have a ps4 and you are not sure what game to try next, it might be a cute, fun and casual game for you.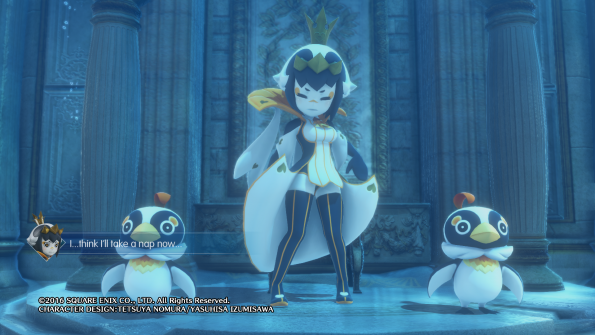 It also has the best description for the creatures you capture, I had many laughs playing this game (as always you can enlarge photos by clicking on them).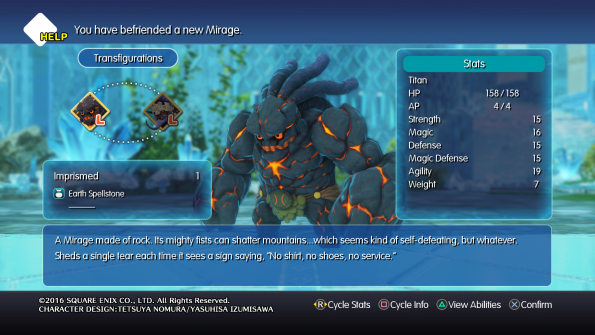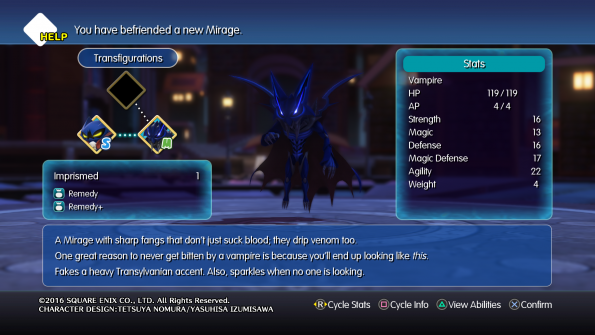 And since I know Alasse likes Shiva, this is the design for her in the game (not a fan of it but you can't have it all):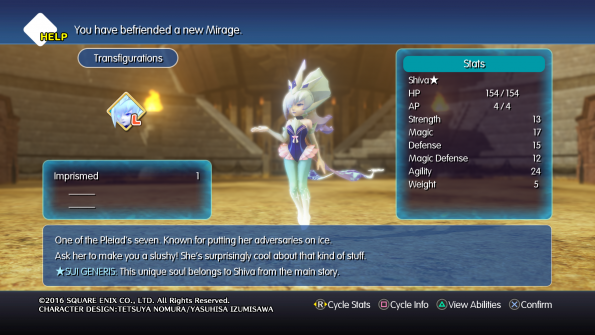 There's also a version of Shiva made like the one in Final Fantasy XIII (The one Snow summons). I haven't finished the game because as you already might know (or not), Final Fantasy XV was released on November 29th and of course I got it the first day.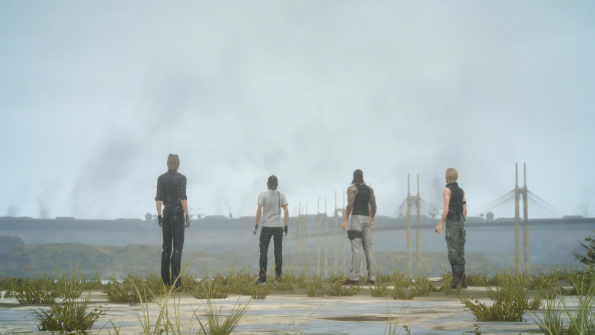 If anyone wants to hear my impressions of the game: it is simply fantastic. It has a lot of content for old fans like me, but it is completely renewed in mechanics which totally make it appealing to new crowds (or that's what I hope). When I played the demo I thought the battle system, though it looked very much like Kingdom Hearts, was too complicated and crappy, but after the game was released I got the hang of it fairly quickly. Here's a battle video I recorded, though excuse my poor skills:
Hope everyone gives this game a chance if they can, the story is really nice (watch the movie if you want to know more about it), the characters feel more developed than in other games in the series and the battle system is really fun, though I still believe the best battle systems in the entire series are the Final Fantasy VIII and XII.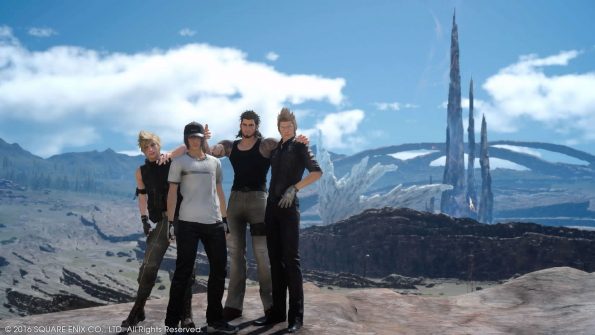 The story is short (I'm almost done with it), but you can do many side quests, hunts and exploring, which sums a crazy amount of hours of playing, which is always good.
Anyways, the main thing here was to talk about my profiles and not my games hahaha, I'm sure once I'm done with this game I will be more active in the doll community, Thanks for reading!