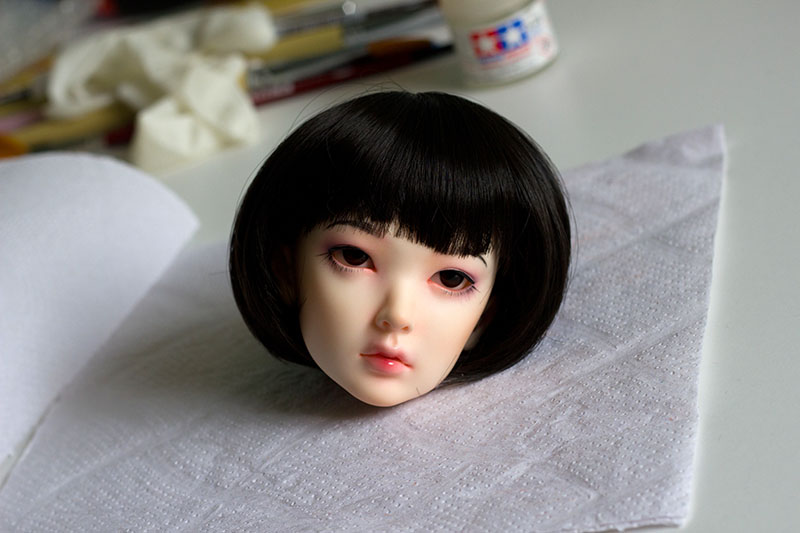 I'd like to apologize for the lack of posts lately, I've been very busy with life and trying to finish up face ups. I finally had some time to finish my Supia Rosy this weekend, so I can finally present her!!
Her name is Hana, but everybody calls her Kitty. I'll be posting her profile as soon as I get some decent portraits of her, but since I'm doing face ups in my room there's barely any space left for anything else.
I'm very happy with the final result, I think it's an improvement on her first face up. It's still missing the eyelashes, but I ordered shorter ones and they should be here this week. I'm actually terrified of gluing them, I'm really terrible at it, but I hope I don't screw it up!

Here there is some progress of the face ups in pics, all photos can be enlarged by clicking them, so you can see details better.
It took me several days to finish her since I was painting only when I had a bit of free time; I tried building small layers of colors at a time so it wouldn't smudge or look dirty.
I'm no expert when it comes to face ups, I have A LOT to learn, and I hope I get to be good at it some day. I know the lower eyelashes and the eyebrows are not very good, and I'm hoping to improve that next. I'm really happy with the overall look though, and the blushing is really pretty in my opinion. The top part of the ears have a bit of pink and it's so cute!! Too bad the wig covers it, but it's okay, it will be a detail that will make me happy every time I take her out of her box.
At this point I think I've done at least 6 finished face ups in my practice head, and this is the second time I paint my Rosy. Most face ups were done last year so I had to start almost from zero and practice again before I could paint her. At first it was really frustrating, I even got the sealing wrong once (too close), but I'm glad everything worked out in the end.
Now I'm preparing to paint Faolan, that should be fun! I hope I don't screw it up too bad.
I'll be more than happy to hear your thoughts and constructive criticism will be appreciated.