Hello guys! Can't believe how fast the time has gone this year! Halloween is behind us already, but I still wanted to show you how to make the yarn wig I used on Ailene's rag doll costume. No pattern needed for it! It won't work as an all day wig because of the way it's constructed, but it is perfect for costumes.
I based my wig on this human yarn wig tutorial, but I'm not sure if my english sucks more than I thought, because I didn't find the instructions nor the photos as clear as I wanted to, so that's why I decided to do a doll version tutorial.
I apologize because the quality of the photos isn't too great, I did this wig when there wasn't much light and next to my computer so the conditions weren't good to take photos. I tried to fix colors on Photoshop, but by making Ailene and the materials look good, I made my hands look kind of zombie-like hahaha. I swear I have healthy hands!
Now onto the tutorial~
Materials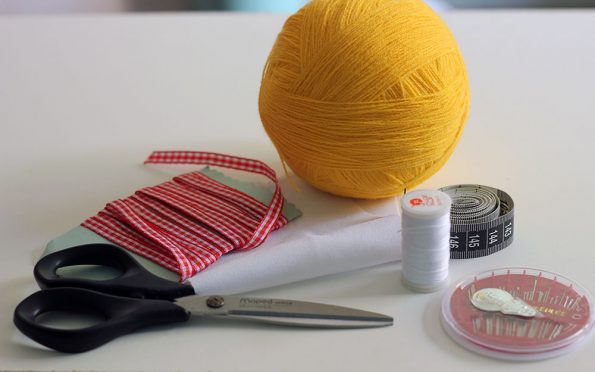 You will need:
Yarn of the color of your choice. I used a thin one to make it look more up to scale, but you could get away with a thicker one as well.
Scissors
Thread, preferably the color of your yarn, or as close as you can get, in my case I used white.
A needle
A measurement tape
A piece of fabric. It can be a scrap, you don't need much.
Ribbons or anything to decorate.
The wig
To start the wig we need two measurements from your doll's head: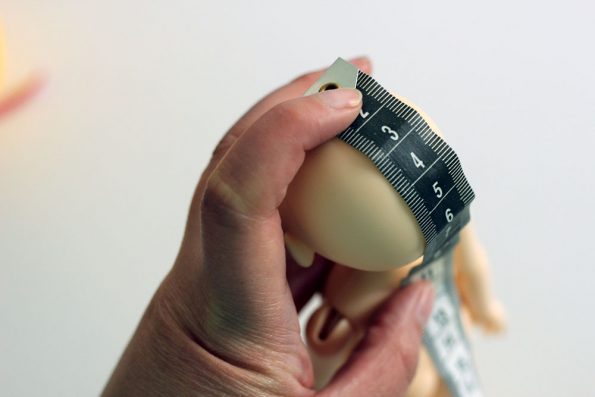 First we measure from where the wig should start at the front straight to the back.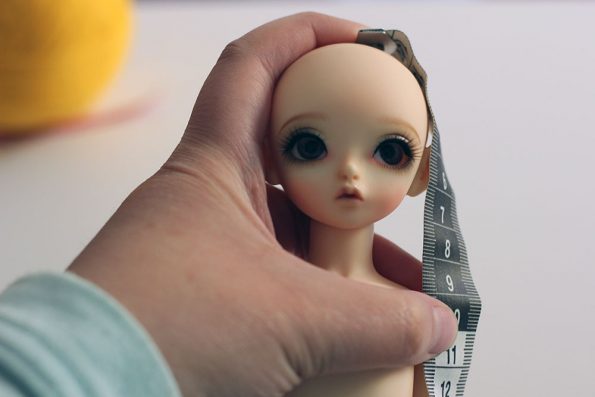 Second measurement is how long we want our wig to be from the center part of the head. I went for 12 cm. long.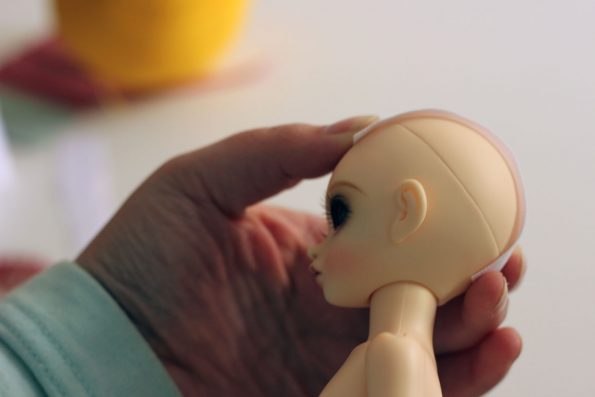 We use the first measurement to cut the piece of fabric. We only need a rectangle really, we won't be making a wig cap.
Then we cut several pieces of yarn doubling the size of the hair length. In my case hair is going to be 12 cm. long so I cut the yarn 24 cm long.

Cut enough yarn to cover the piece of fabric. In the photo you can see how much yarn I cut at first, but in the end I used a lot more. The thicker your yarn, the less yarn you will need.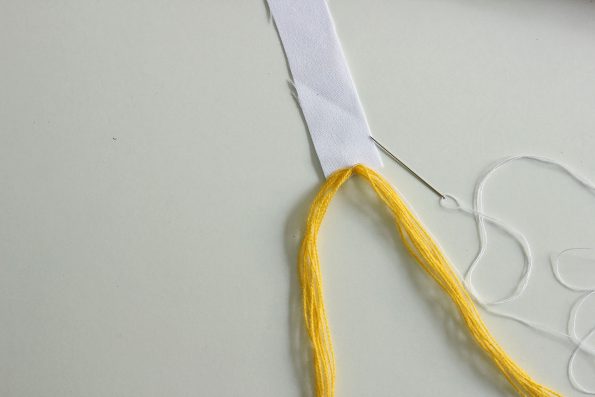 Pick a few pieces of yarn and sew them to the edge of the fabric. This will make the hair stay in place very nicely, but it will still move to the sides if you pull too hard, so be careful.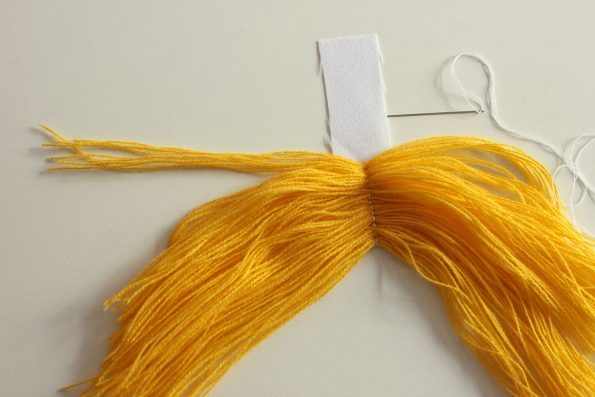 Keep sewing group of hairs little by little. It seems like it will take forever, but it's quite fast.
If you enlarge the photo you can see the first part of the wig I was passing the thread twice for each group of yarn hairs and the thread was too notorious so I started passing it just once and it looks much better. Learn from my mistakes and don't over do it!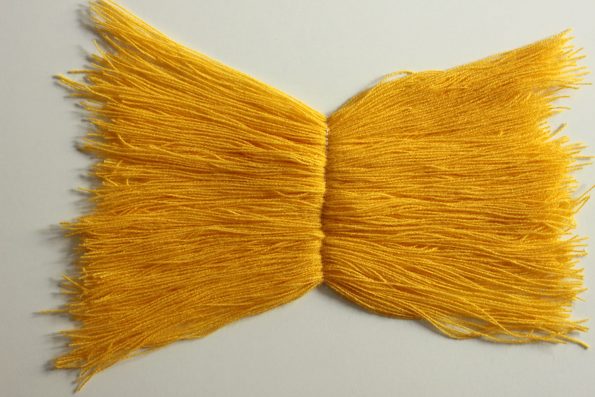 Once you reach the other end it will look like this!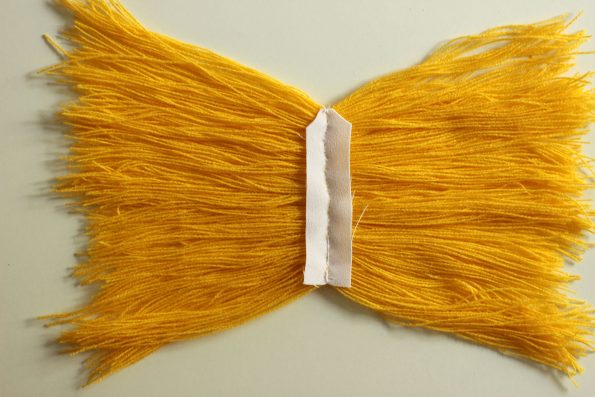 I cut the edges of the fabric a bit on the side I decided was going to be the front part so it wouldn't show on Ailene's forehead.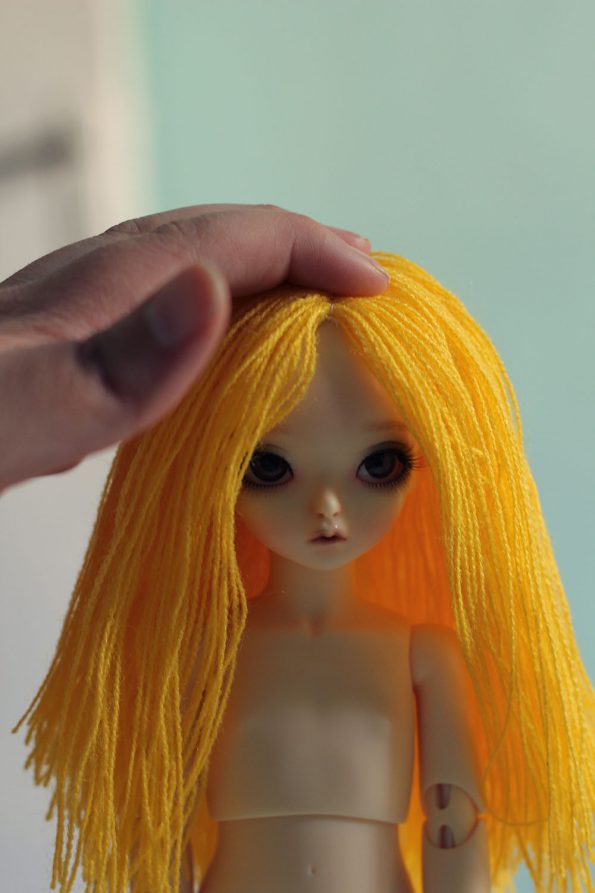 Now it's looking more as a wig! Place it on your doll's head to see how it's going. The wig won't stay in place at this point and that's okay.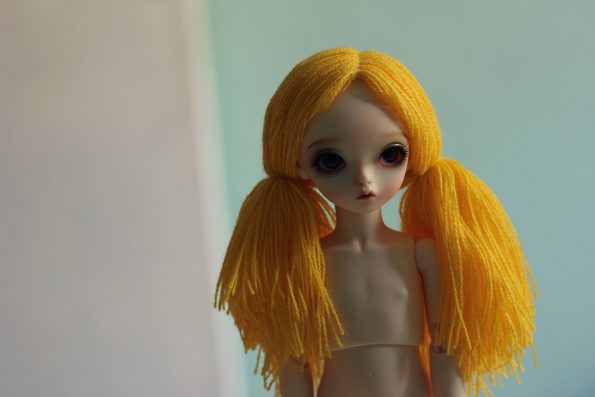 With the same thread you used to sew the hairs, secure the pigtails. It is hard to do when the wig doesn't stay in place so feel free to keep it in place with the help of a second person or masking tape. I didn't use anything or anyone but it took me a while to get the tails right.
Once the pigtails are secured you are free to decorate them with whatever you want, I used a cute red ribbon.
Making the pigtails will make the wig stay easier on the doll's head, but if you still have trouble when taking photos, you can hide a tiny piece of masking tape inside or use a silicon wig cap.
If you want to go for the rag doll look you can add red cheeks to your photos using Photoshop or any other photo editor program.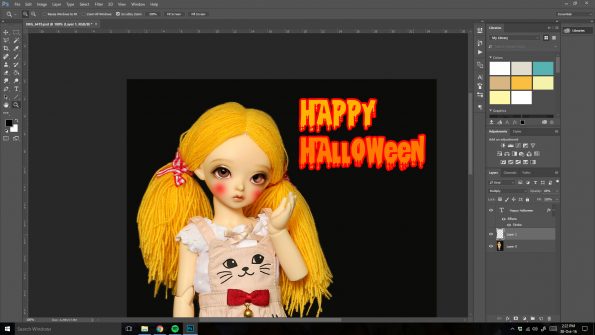 My way is really simple but it won't look that realistic. In any case is a fast and cute way to do it. I created a new layer on top of the photo and painted some big red cheeks using a brush.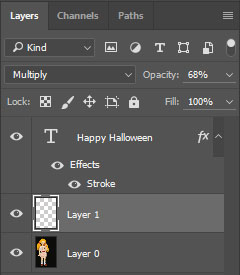 Then I set the layer on multiply and played with the opacity of the layer until I was happy with it.
The end result, most of you saw it already in my last post, but here it is:
Hope you guys enjoy it! And if you want to give it a try let me know how it went~
Have an amazing weekend!