Hello everybody!!
This doll I'm about to show got here a day or two before my trip to Puerto Varas, but I didn't have time to post about her until now. I was hoping to do a shoot of her in my diorama, but that is taking way more time than I anticipated. I have worked in it every weekend. but I'm still missing a few details (and a side table that I'm not sure how to make haha).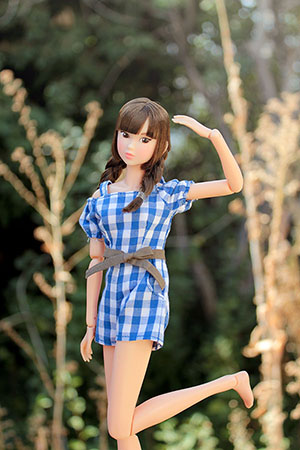 I got this girl on ebay because She was sold only in Japan to celebrate Monchhichi's birthday. I was a bit scared to order a doll from ebay but it all went very smoothly. EMS did take a long time to arrive, but that was just my postal service being an ass again.
She's a WAKE UP edition so she comes in a brown box and not the pink one I was used to. She also comes with no shoes nor accessories, only the blue gingham romper thing. There's also a red version. I think all wake ups come in a romper with no other accessory.
Her face screening is very sharp and nice, she even has freckles!! I'm so glad I got her, She's quickly becoming a favorite.
Hope you are having a great week!