Hello all!! It's been a while since I did any face up posts (or face ups, really), but I'm happy to be able to talk about my dragon Ashes face up progress today. I also decided to keep the name I long planned for him: Fiyero. What do you guys think?
It was a 3 day weekend and I spent all three days doing face ups. I sadly screw up all the other heads I started painting so I only was able to fully finish Fiyero and bleater's body.
I took photos of all the steps (minus one). I didn't include blank photos, but you can see lots of them in my Ashes box opening and also in my body review.
I received Ashes on July 12th, so it took me 3 months to paint him. You might think that's a long time, but considering it always takes me a year to paint a doll, this is a HUGE accomplishment.
This post is image heavy. For the same reason, I didn't do much edit to the photos, even though they didn't came out great and most were overexposed.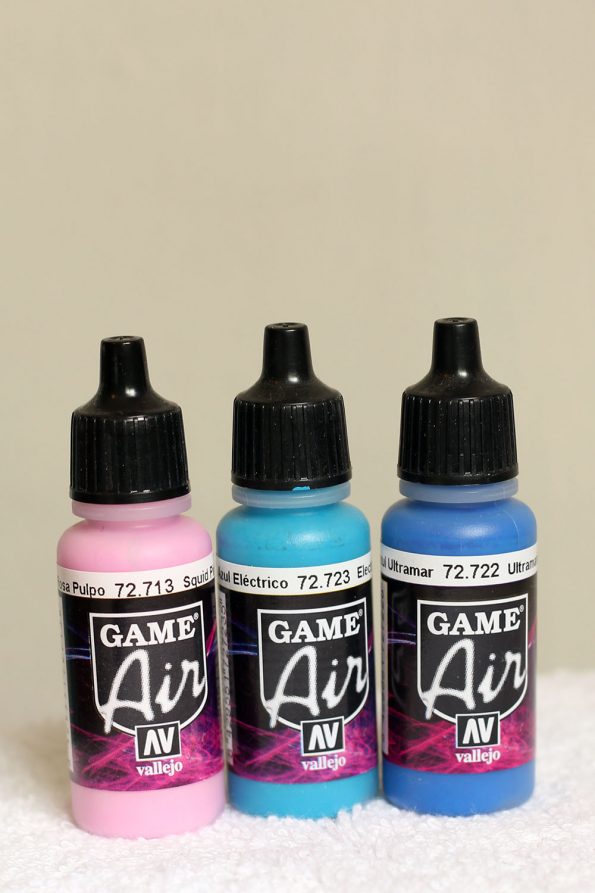 This was my first time trying these paints. I bought them online because they don't sell them here. I could have gotten Golden acrylics in my city, around an hour travel from where I live, but they were bigger bottles and more expensive too. These were small which is something I like because I won't need that much color when airbrushing dolls anyways, so I can have more colors in less space.
I first did a base of pink blushing using the airbrush on most pieces (I skipped the horns, hands and the back of the wings). I also didn't blush the arms, the back piece for the head nor the torso.
This is how the first layer of airbrush looked:
After sealing that, I added a layer of electric blue (the lighter blue in the photo):
To keep the tiny horns that were glued to the head white, I used masking tape to cover them on each layer of color. You can see in the last photo the color still touched a bit of the horn, but I was able to clean it using thinner.
That was all the airbrushing color I did, since I do not have great control over the airbrush (I mostly use it to seal heads).
Once all the airbrush job was done I sealed the pieces one more time, then I applied more pink blushing using pastels on the wings (to visually separate each membrane of the wing) and on the face.
I also applied dark grey pastels on the scales of each piece and the eyes:
Time to seal everything again and paint the little white details with acrylics. I did a second layer of dark grey on the wing membranes to give it more dept and I also added black to the eyes before sealing again (I skipped that photo so you will see the head with eyeliner already on):
For the eyeliner I used the dark blue of the Vallejo paints instead of black. I think it gives it a nice touch. You can click on the photos to enlarge.
I somehow forgot to take any pictures of the jaw piece with the tongue, but I gave it a layer of pink blushing with the airbrush first so it would take up the pastels better and then added around 3 or 4 layers of red pastels before painting the teeth white (since they were red by then).
After sealing everything again I added a satin finish sealant on teeth, and white bones and claws, and also the horns and jaw piece. I could have used gloss finish, but I thought it would be too shiny.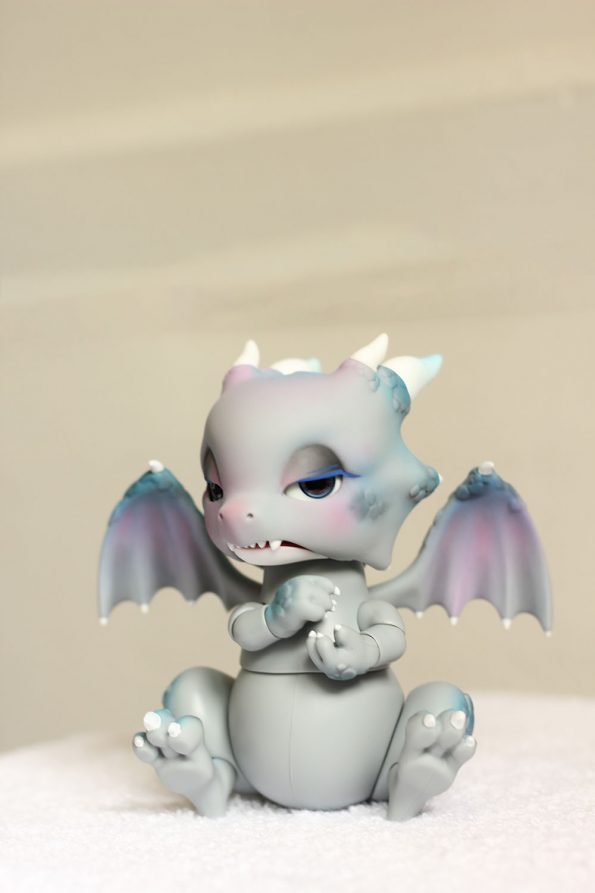 I also want to mention that it was my first time using Vallejo sealants instead of Liquitex, and I quite like them. For one is a blessing not having to dilute the sealant in distilled water. Texture isn't as rough to the touch as Liquitex, but I got the impression that the pastel colors hold way better on it. My first big screw up on Junia's head was that the blushing ended up being too heavy, because I was not expecting the pink color to pop up that much on the head, so I was quite impressed! I used the same pastels I always use (Rembrandt).
It was also easier to clean up mistakes. When I painted with white acrylics over blushed pieces by mistake, I used a bit of thinner to clean it up and it didn't smudge the colors that were sealed under it. I was impressed because most of the time with liquitex I lose a few layers of colors when trying to remove mistakes with water (and then I have to start over).
It also was easier to deep clean the airbrush. Usually with liquitex, every time I take the airbrush apart for deep cleaning (which I do every day after doing face ups), the tiny pieces at the front are always stuck and it's such a pain to separate them. I once made a dent on the nozzle cap trying to separate it from the nozzle, but these past three days nothing was stuck after a day of sealing. I didn't do anything different, I cleaned the airbrush every layer as always. I did use the vallejo cleaner instead of the Medea one, but I find that the Medea cleaner is much easier to work with, so I don't think that was the reason.
I'm overall very happy with the sealants I got, only problem is that the bottles are super tiny and since I'm super insecure I seal each head A LOT of times, so I don't see it lasting too much, Oh well.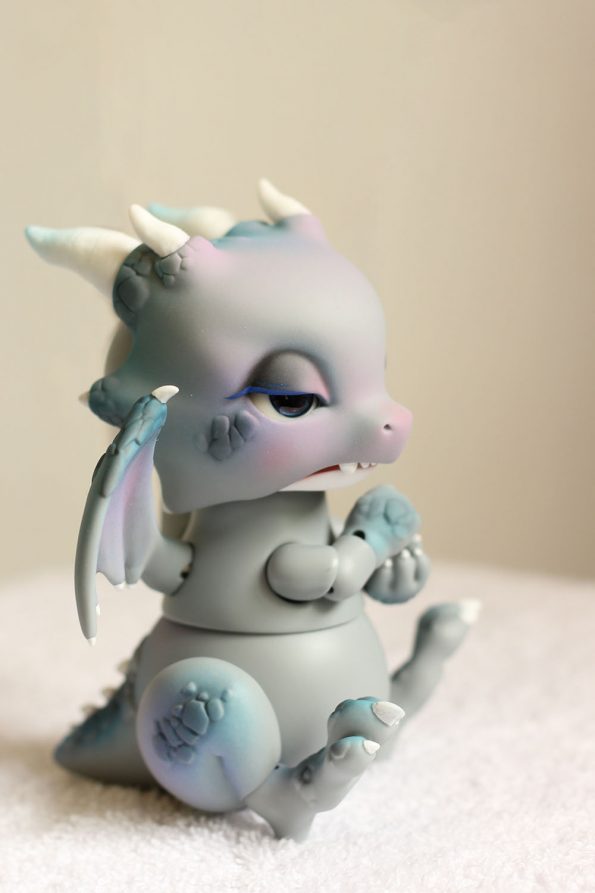 Had a lot of trouble putting this little guy together and I already did an order for new elastics because I had to use the elastic that was meant for the body on the arms and wings and use a thicker elastic I had laying around for the body, since the elastics that were previously on the wings were too short to restring him with them.
Not ideal but hey, He is complete. Hope you like him as much as I do~