Hello guys! It seems like I'm finally progressing, even if it's very slowly~ Today I want to show you how my +SIO2+ bleater looks like finished. I was torn between calling her Adelina or Mercedes, but after seeing the final result I think Mercedes suits her way better. Worry not, I'll be getting an Adelina someday too, I love that name too much to let it go!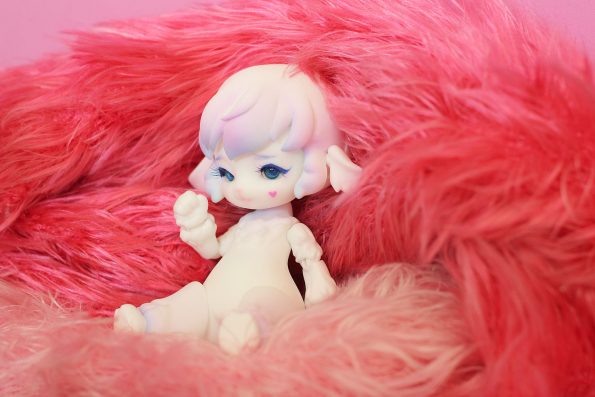 I'm happy with the end result, it's more or less what I imagined and planned when I first saw the photos of her on tumblr, the only thing missing is a second heart in the other cheek, but I didn't dare to try to make it, I'm sure I would have screwed up and there were many things going wrong to even dare.
I tried to make the blushing very light so i wouldn't stress too much about chipping. Her face has some pink blushing (though you can't see it in the photo all too well) and a pink heart on her left cheek. She also has blue eyeliner and blue eyebrows and lashes. I wasn't planning on going with sad eyebrows but it sort of happened that way. I'm proud on how thin the hairs made with acrylics diluted with airbrush flow improver turned out.
Her right butt cheek also has a heart, but I didn't manage to take a good photo of her back for now. Hair is a combination of pink and blue acrylics, the same ones I used on Fiyero.
Assembly was a pain and it's a miracle I didn't ruin the painting! I didn't use the elastics she came with because I found them to  be too thin and crappy. Instead, I used 0.8 mm. elastic string for her arms and 1.5 mm. elastic for her body and legs. The end result is so much better!! You can buy the elastics at cool cat.
For eyes I used 10 mm. urethane eyes made by All that glitters on etsy, I highly recommend them if you need really small eyes. I chose 5 mm. iris and small pupil, I also requested custom pupil color, which costed extra (2 USD). In case you want to know the colors, iris is color no. 014 and pupil is no.013.
Though Mercedes likes to call herself a protector of all creatures, She's just too coward for that. She was created by the fairies to act as a conscience for the real protectors of the forest. She loves hanging around with Serafina and the others, so let's hope we can see them together soon.