For my doll is a store located in Korea that is very well known for their wigs. They also sell eyelashes, doll clothes, doll shoes and wig related products like caps and brushes. They even have a few human wigs as well.
I've ordered 2 times from them: the first time I ordered a long yoSD wig for Ailene and the second time I got a white wig for my PW FoF Leo, Minnie headbands for YoSD and SD dolls and some eyelashes. So I'll be talking about those things here.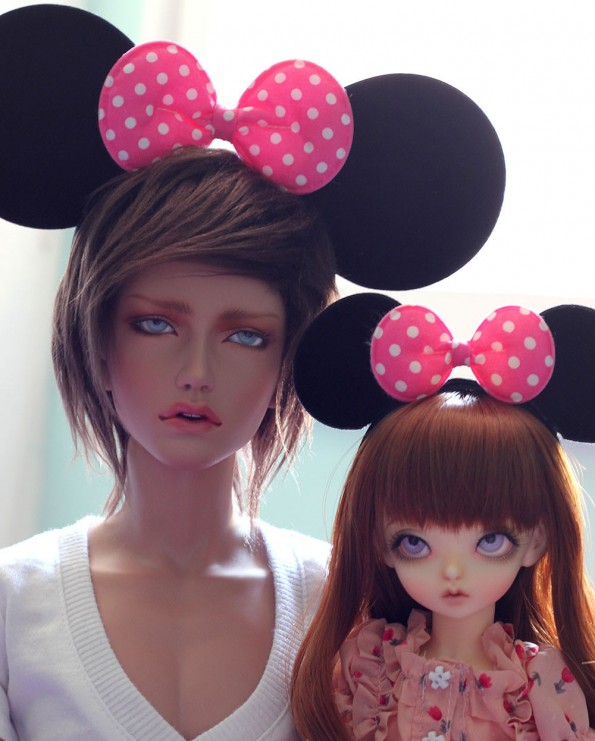 How to Order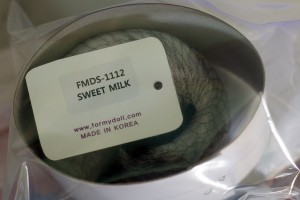 Purchasing from their website is very easy, since it uses the shopping cart and check out system. You add the items you want to your shopping cart and once you have everything you want, you check out to get the shipping costs before you have to pay.
Be sure to choose the right size for everything in your cart. Each size of wigs, shoes and clothes have a different section, but for other items like accessories you have to choose the size in the item page, if available.
They do accept Paypal so it's very easy to pay as well. I really recommend to use this method for safer transactions over the internet in general, plus it's faster and easy.
About the products
Their wigs are really nice quality, the fiber is very soft and most of the wigs are made from heat resisting fiber, which means you can style them with heat. Wigs are labeled as heat resisting fiber and normal fiber (normal fibers can't stand heat).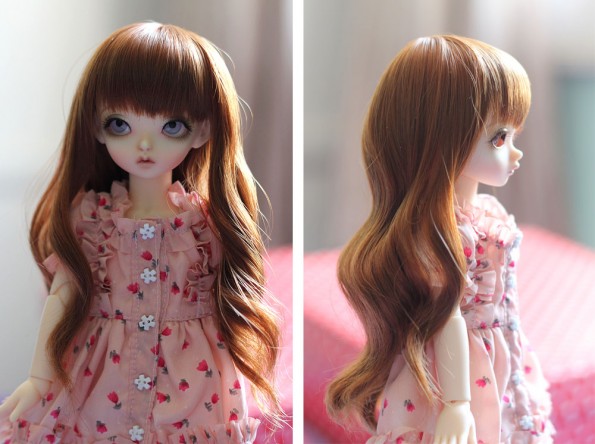 The wide range of colors go from "natural" looking ones like brown, blonde and black to fantasy colors like pink, lavender and even some styles that mix 2 color fibers into one wig.
They have wigs sizing from 3-4 inches to 9-10 inches in stock all the time and some pre order styles where you can choose the colors and size. Be aware that Pre order items take longer to ship, since they make them after ordered.
The fabric cap inside the wig is beige in color and not black so it probably won't stain your doll's head, and it has a bit of a stretch to it. I don't know if their black wigs have a black cap, but my Coco brown and sweet milk ones have both the same beige one. If you move around the hairs of the fringe in the white wig too much, you might see a bit of the beige peeking through, but it's not really noticeable in photos or when well styled, so that's something to consider when buying much lighter or darker than beige colors.
 Fit
I only can refer to 6-7 inch wigs, since both wigs I've purchased are this size.
They fit loose on the head of my dolls (Peak's Woods Fairies of Fairytales line, these dolls have similar measurements to a YoSD), but it's a good loose, the wig does stay in place without a wig cap and it's easy to put in the head in both cases: with a silicon cap or without it. It stays best with the silicon cap in, but I go without it when I want to take pictures in a hurry since I can style the wig quicker right on the doll and stays in place good enough while I'm shooting, unless you plan on putting your doll head down hanging from the ceiling, of course.
Coco Brown color is a warm medium brown with a redish undertone to it.
Sweet milk is very white, definitely a cold color.
Note apart, I couldn't decide if I wanted grey or light blue eyes for Leo (still nameless) so I left one of each on, what do you guys think? I even like him with one of each color XD. Looking at the photo I might leave the grey ones on.
Shipping
For my doll ships products via EMS primarily, but you can choose airmail as well. Both come with a  tracking number. EMS is more expensive, but it's faster and safer, and the tracking number updates constantly, while airmail is much slower (It can take up to 4 weeks) and the tracking number only updates when the package leaves the point of origin and when it arrives to its destination.
Unless your purchase included a pre order item, most packages are sent to their destination the next business day after payment has been confirmed.
Customer service
It's really easy to recommend an online store to someone when everything went smooth from the beginning to the end, but when something fails is when you can really say how the customer service of a store really is, for better or for worse.
As you've seen here, both my purchases have been really small. It's this the very reason why both times I chose airmail as shipping method, since EMS to Chile has always been really expensive from Korea.  I usually never have trouble with airmail, and 99% of the things shipped to this house have arrived safely in a period of 4 weeks.
As I mentioned in a previous post, the wig I got for Leo was taking a long time to get here. I was getting really worried when a friend convinced me to ask to the store.
You see, when you choose airmail at For my doll, you get advised not to, since they don't take responsability for problems with packages sent via airmail, so I really didn't want to make any trouble for them. I asked my postal service first about the package and they claimed that it never landed in Chile, so I was left with no choice but to ask For my Doll if they could ask their local postal office about it. They were very nice about it, and after a a while, seeing no one could get any information, they offered to re send the package for me.
They were very nice about everything, and I'm sure they will be equally nice to you should you ever have trouble. Needless to say, the second time they sent the package, it arrived really fast and safe.
I also think they send gifts with every purchase, mostly hairpins, though I got a pearl headband once.
Conclusion
Their wigs are high in quality, they offer a wide variety of colors and styles and their customer service is outstanding.
I will definitely purchase again in the future, but I'll probably wait until I have a lot to buy, so EMS charges don't hurt as much.
Related links:

English website 
For my doll Facebook page 
For my doll Twitter.
Den of Angel's photo reference thread