Hello everyone! Hope everything is going okay for all of you. I've been wanting to do this review for quite a while, so I hope you find it useful!
Musume & Okasan is an etsy store that specializes in high quality crochet products for dolls of all sizes. They are located in Argentina and offer a wide range of colors and styles. The communication with buyers is made by the lovely Musume.
How to order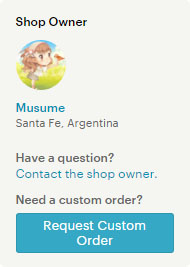 Etsy is pretty straightfoward as it works like any other online stores with a shopping cart and a checkout page.
If you want a custom order, like I did, you have to use the request button, which will create a conversation between Musume and you to arrange the details of your order. Once your pieces are finished, She will put up a listing made specially for you that you can add to your cart and checkout.
They accept Paypal so it's very easy to pay. I really recommend to use this method for safer transactions.
About the products
Everything is done by crochet and they use very thin threads to make sure it looks in scale to the dolls so it looks very realistic. They have a lot of colors to choose from and they are always adding more.
For this time I chose a gorgeous pink to make a hoodie with scarf thing for Ailene and a vibrant red for a scarf. Colors codes are 58 for pink and 49 for the red I chose.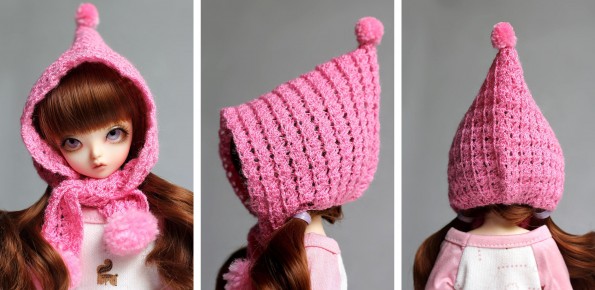 Pink is one of my favorite colors, so I'm very picky when it comes to different pink shades (I don't like them all), but Musume really helped me giving me descriptions of all the pinks I had questions (like if they were cooler or warmer, and so on). And the pink I got is pretty much perfect.
I sent her a very crappy drawing of what I wanted for Ailene's hat and She made suggestions too. At first it wasn't going to have a little pom pom at the top, but She suggested we try putting one and If I didn't like it She would take it off. I accepted and I'm glad I did because it looks so much cuter!
Fit
When you are asking for a custom order or a custom size you need to give the measurements they ask for, so you have to make sure to really measure everything well. In my case I only had to give simple measurements like head circumference and the width and lenght of the scarf.
Since all the things I got were made with the measurements I gave, the fit is great.
Customer service and Shipping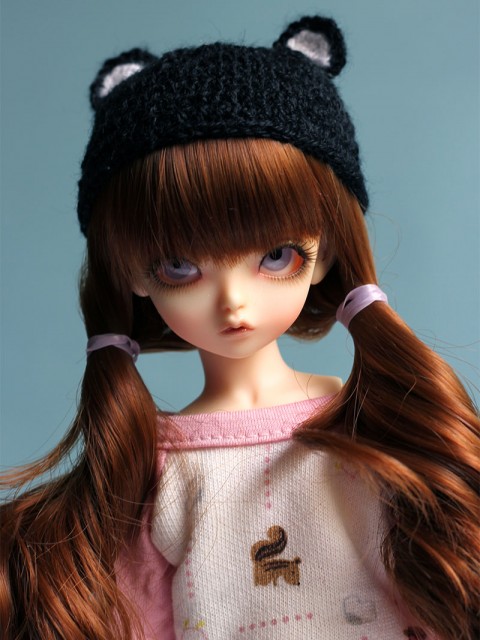 I sent my order with the details on August 10th and I got a reply the very next day asking me for the measurements. A week later my scarf was done, since I still wasn't so sure about the hat's color. Musume was kind enough to take extra photos of the color I had the most doubts about, so we left the hat for last. 10 days after the scarf was done, the hoodie was finished as well. This was the point were Musume suggested the pom pom, which only took 2 more days for me to see (I was sent several photos everytime something was ready in case I wanted changes).
On August 30th my custom order was up on etsy so I paid for it as soon as I got the message.
I must say that shipping from Argentina to Chile was a bit high considering we are neighboor countries, but postal service both in Argentina and Chile is more expensive than in other countries so I can understand that and I hope it doesn't prevent people from buying from Musume & Okasan, because it's totally worth it in the end.
Packages have tracking so that's great. I received the package in a few weeks, I just didn't take photos for the review until now. I apologize for that.
Conclusion
As I mentioned earlier, this is my second time buying from her, and I love everything I've received so far. And I always get a gift! The first time I got a belt and this time I got the cutest panda hat!
Here's a photo of the hat and one of the scarves I got the first order (I hate this photo because it has the first face up I did on Hana XD, I hope you can notice it has improved since then lol):
Thanks for reading!