Leeke World is a doll store located in South Korea that is famous mainly for their huge amount of wig colors and styles and their own lines of dolls.
I ordered a limited indibrown wig in LR-147 style, W-129 wig in baby brown and W-124 wig in slate gray.
ABOUT THE PRODUCTS
Let's start with the limited color. If you check the photos for the color, it's a very nice brown that has fibers from different tones. The color is kinda ashy, but that's exactly what I was looking for. What I received, however, was not brown at all.
I understand that screens might make colors to change a bit, but the wig went from looking medium brown in my screen to the ugliest ashy blond I've ever seen.
I was really disappointed about this, since it was the wig that got me the most excited, but I was still decided not to complain since the color could be my fault. When I went to try this wig on Ailene I notice that it was way too big for her and the wig cap was covering her ears entirely. It turned out to be a size too big (7~8 inches). So the wig was not only the wrong color, but useless to me.
Luckily I had a plan B: a second wig in baby brown.
The W-129 wig was the correct size, but I am not too happy about the quality. It had a lot of loose tiny hairs inside the wig cap. And I mean A LOT. I took out most of it but the wig stills has some that stick to the silicon wig cap whenever I take it out.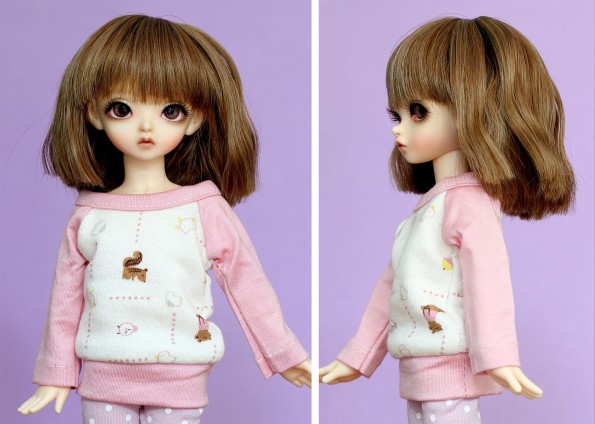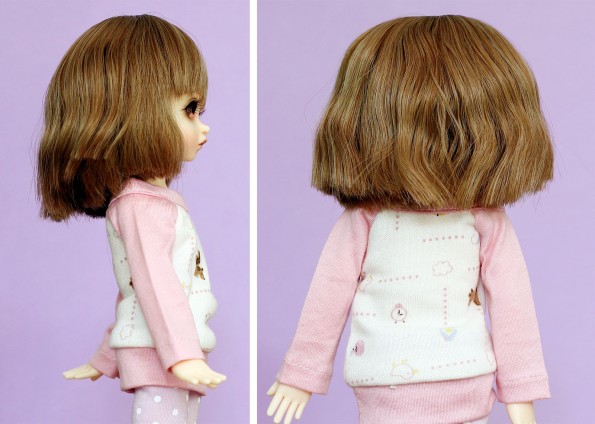 The wig is a bit messy, but I don't mind that. One of the sides looks way better than the other too, but that can be fixed styling it more.
And as for the third wig, well, it was also the wrong size, which left Faolan with no grey hair.
SHIPPING & CUSTOMER SERVICE
Leeke does not offer any other postal service besides EMS, so it can be pricey. Since my order included one pre order wig I had to wait for them to ship everything together. It's supposed to take up to 45 working days and I think I had to wait a bit over that, making the wait take 2 months and a few days, which for the things I received was not worth it.
They do answer any question real quick. I forgot to add a wig cap to my order so I made a second order and before paying the second one I asked them to combine both, which was done very fast.
I also had to complain about the wigs being the wrong size and the limited color being nothing like the pictures. I got an apologize (they didn't adress the color of the wig directly) and they asked me to send the wigs back for a refund. No other option: I had to send the wigs back and once they got them they would send the refund.
So I sent the wigs back. They said they would cover with the shipping cost so that was nice. Since EMS to Korea was too expensive, I decided to send them via airmail with tracking number (EMS was over 50 USD for 300 grams worth of wigs). Once I sent Leeke the tracking number and the shipping price they asked me If I wanted a refund or a new pair of wigs. Since they first offered me only a refund I asked for that.
The shipping back to Korea took 2 weeks and they sent me the refund on december 24th. I didn't even have to ask them about anything, they contacted me directly as soon as the wigs arrived to their store. So that was cool. I received my refund and used it to buy some mako eyes hehe.
I asked around a lot in my local community about Leeke wigs and there was a huge amount of people that have had trouble with their wigs. The most common problem is them sending the wrong size. I think they have trouble with the labels: if you check the wig tags, they always have the style and color written on them, but not the size, so that might be the problem.
In conclusion, I love all the color and styles of wigs Leeke sells, but as many people have said before me, buying from them is hit or miss and until they don't fix their problems I just will spend my money elsewhere.
Related links:

Leeke World english store
Den of Angels' Heat resistant fibers photo reference thread
Den of Angels' photo reference thread