Hello everybody and Happy Halloween!!!! Hope you are enjoying all things spooky and the candy!
Today I wanted to make a blog post about all the photos I took this month, after coming back from my long doll hiatus. I wasn't expecting to take this many, but I had fun in every single shoot.
But first, I want to thank everyone for coming back to my blog after all this time with no new updates and using your time to comment, you are so great!~ I hope I can keep up the energy for dolls for a long time, but if not, I'll at least make sure I use it all up while it last!

First photo I took was of Ruruko. I was already planning a photoshoot with Nina to do that day, but I had some extra time that morning so I just went to my backyard with Ruruko and see what I could make.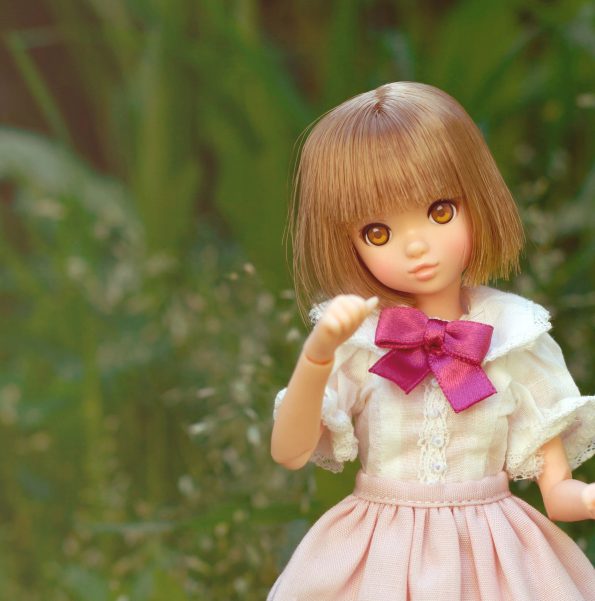 I took a few shots I liked of her, so that was nice and it reminded me how fun dolls can be.
Next one was Nina, this time for real. I wanted to make some fashionable photos of her in that nifty wall I found near a park. My brother and my sister went with me since that part of the neighborhood isn't that safe nowadays. I'm glad I was able to take a nice shot of Nina here.
Dolls are fun but so are their miniature props! So for this shoot I just set up a simple diorama to take a few shots from above. They turned out very nice, considering I was balancing everything in a tower of boxes in my bed while I was standing in a stool at the side trying to take photos.
And of course, Mercedes and her cuteness came to the rescue one weekend. This was a very simple shot, but I like it nonetheless. I think the "pat pat" I photoshopped on it makes it extra cute.
Were you missing some Pure Neemo action? I was! So my sister and I went to a park nearby near sunset time to try to capture some of that nice lighting. Did we succeed?
And after so long with no new pictures, I had to attempt a group shot again. Well, a duo, at least. I swear you'll see this bike again and again in the future, I just love it. From this shoot I also got some nice portraits for my Instagram.
One day Sahra volunteered to a photo using the ears headband I made. She looks so cute in pink (and it's also my favorite color), though I feel the clothes don't match the headband haha. Both Sahra and the clothes she's wearing were a gift from Alasse, I love them so much! The sofa was a gift from another friend and it's actually a jewelry box.
And that leaves us with the last photo of the month, a Halloween themed one. I don't have any costumes nor did I want to make one so I decided that Nina, being the fashion blogger that She is, was bound to post her Halloween inspired outfit of the day. Style all around. Do you like her bag??? Next week's blog post will be a tutorial on how to make it, hope you are interested!
So what do you think about this month's photos? It feels like I pretty much made up for many months of none lol. I'm just happy I got to post regularly both here and Instagram for this month.
Hope you have a very nice and spooky weekend!